After having worked for many months, we just wanted a break. Because it's winter, most people go skiing but we decided we wanted warmth and sunshine. So, we decided to go someplace warm and sunny to finally enjoy those things we miss so much. But we didn't just want to lay by a pool or on a beach for a week. Of course we also wanted to cycle! And Tenerife (Canary Islands, belonging to Spain) is a very good place for cyling this time of year… On Tenerife, there's the volcano Teide, the highest mountain of Spain and a real challenge to ride. So, Tenerife it was!
After a flight of little over 4 hours, we landed on a stormy, cloudy but warm Tenerife. As soon as we were checked into our hotel, we could put the warm winter clothes away and take out the shorts and flipflops. It was great! The rest of the day we spent exploring the area (many, many old tourists) and trying the beds by the pool.
We went to the bikerental shop the next day to rent some bikes. They were very busy, but they did have some bikes for us to rent and it didn't take long to arrange everything; bikes for 3 days, starting the next day and we could pick them up at the end of the day.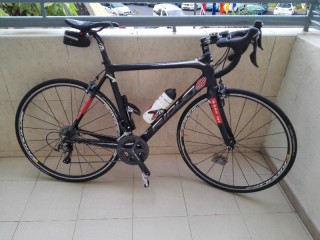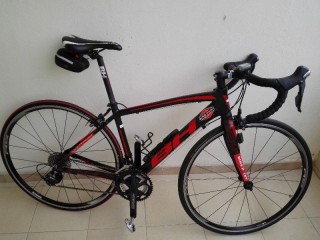 The first day we did a beautiful ride of about 65 kms (43 miles). There's no flat part on the southern end of the island. As soon as you leave the beach, it goes up and continues to go up, also in the towns. So, to get out of town we had to go up immediately. We cycled through the Valle de San Lorenzo to Granadilla and from there to Villaflor, the highest mountaintown in Spain at 1400 meters (4200 ft), on a beautiful and almost deserted little road. After 40 kms (26 miles) of climbing we raced down, 25 kms (16 miles) straight back to the hotel. It was a beautiful ride to start with and we still had time left to enjoy the pool.
But day 2 was the moment of truth; climbing the Teide! We cylced up in 55 kms (36 miles), through small towns, forest and lavafields to get to 2200 meters (6600 ft). It turned out to be the most beautiful day of the week; bright blue skies, warm and not a lot of wind. It was a beautiful ride, even thought the roadconditions very pretty bad. After a detour to a viewpoint from where we had a good view on the snowcapped mountain, we found out that we had some more climbing to do. We had been looking forward to the 35 km (23 mile) downhill, but found out we had to go up again first. Then, after 70 kms (46 miles), we could finally start the descend! We raced down to sealevel in much less than an hour after it had taken us many hours to get up. But it was absolutely worth it!
The last day we did another short ride, but this contained the steepest climb of all. It all went up, but the last part was very steep. There were stretches of 20-23%! But that did mean that going back was all down, so we got back to our hotel before we knew it.
We took the bikes back and felt a bit weird without them. They had given us such a great opportunity to explore (part of) the island and not having them anymore felt a bit like being stuck. But the next 2 days we just enjoyed the weather, the pool and the beach.
Unfortunately the week was over way too fast and after another flight of little over 4 hours, we got back in The Netherlands where the weather was cold and miserable. But the trip had really been worth it and definitely worth doing again.