A couple of years ago, we bought a 3-person tent; a Hilleberg Nammatj 3GT. Since then, we've almost always brought this tent along on our travels and we're very pleased with it. It's a 3-person tent, so we have plenty of space in the sleeping area; we can even store the bags in there with us if we want, but we usually store them in the front. This front part also is spacy enough for us to sit when the weather is bad. We can also cook there if it's necessary. Plenty of shelter to survive bad weather. The only downside to this tent is that it's a tunnel. These tents catch a lot of wind and need to be pinned down securely.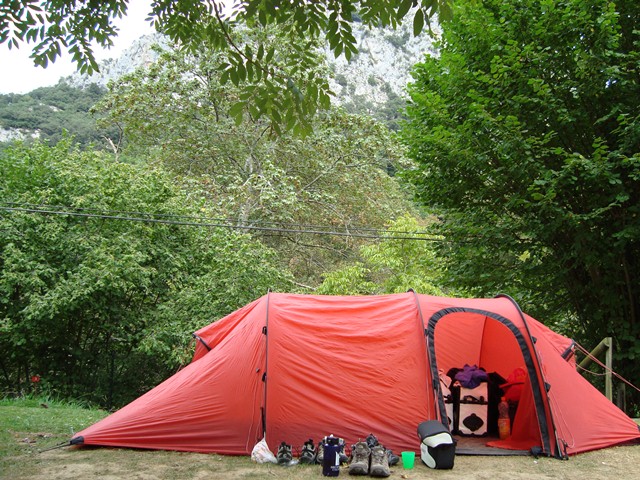 The cooking (by Ron!) is done on a Primus Omnifuel, which uses gasoline as fuel and with pots of (also) Primus. Besides that, our 'kitchen' consists of 2 (foldable) plates, lightweight titanium cutlery (2 of each), 2 foldable bowls, a couple of cups to drink out of and a foldable dish for washing and dishwashing. Also some jars for salt, pepper and (Italian) herbs to spice up our food (mostly pasta). Besides that, we have a waterfilter to always be able to use clean water and 2 waterbags, containing 6 liters each, to store and carry (extra) water through areas where there's little or no water available.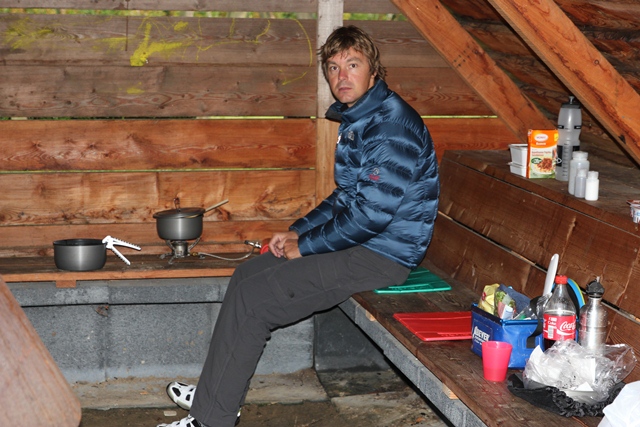 To be able to sleep comfortably, we have Exped Downmat 7 sleepingpads. These are filled with down, for extra warmth. Our sleepingbags are also filled with down. We have sleepingbags for freezing conditions from Marmott. Our pillows are from Ajungilak. They're inflatable, so we can adjust them to our own liking.
Good and functional clothing is important. Because we don't have much space for clothing, it's important that the things we do bring are suitable for multiple circumstances. We need to bring clothing for all sorts of weather; from snowy conditions to tropical temperatures. Most of it will be cycling clothes. We were able to find a sponsor (BioRacer) who gave us clothing. The color is orange, which has a few meanings. Orange is our national color, but it also is nice and bright so we get noticed by other traffic more easily. Also, this is the color of Xycletracx, the store where we bought our bikes and where they arranged these clothes.
We're also bringing a few Icebreaker thermal shirts (long- and shortsleeved). These shirts don't start to smell quickly (big advantage), but they dry slowly because they're made of (merino)wool. Also, we're bringing a few shortsleeved shirts, a longsleeved jacket/shirt, a bodywarmer made of windstopper, a few shorts, long (cycling)pants and arm- and legpieces. For really cold circumstances we're also taking hats, gloves and warm shoecovers (Linda) and for rainy conditions we have rainjackets, -pants and waterproof shoecovers. For the moments off the bike, we bring along 1 long pants, a softshell jacket, shorts and 1 or 2 shirts. And for when it's really cold; a lightweight down jacket.
Other things that we're bringing is tools to be able to fix the most common and necessary things and a very large firstaid kit. We even bring our own seringes and needles to make sure we're being treated with clean stuff (if we don't trust their stuff) and don't end up with some creepy illness.