BIKE
At Xycletracx in Zwolle we were first introduced to the brand Santos. You can put your own Santos bike together. This way you can choose the way your bikes looks and the parts that are put on it. You can even choose the color you want out of 26 colors! Ron chose the color Gun Metalic and Linda chose the Orange. Finishing touch on Linda's bike are the spacers (below the steeringwheel) in red/white/blue to represent our flag. We both have a aluminum Travelmaster with 26 inch wheels.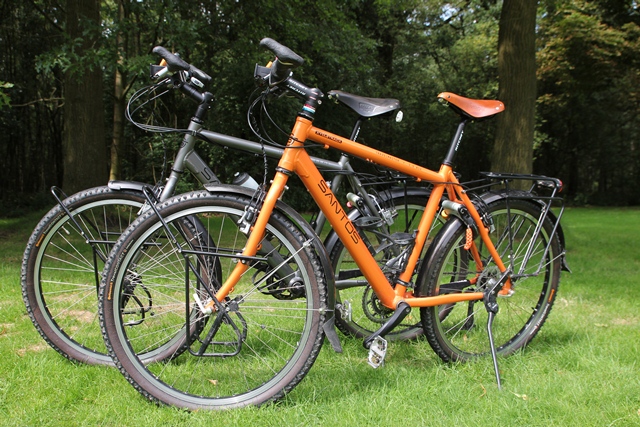 Our Santos bikes
The Travelmaster model actually is based on a mountainbike which, by experience, is adapted/developed into the ideal trekkingbike. A stiff aluminum frame with an extra strong fork which makes it very comfortable. Even with full pack it's very manoeuverable.
Linda's orange Santos has Shimano XT componants. In 2012, Ron bought a Santos with a Rohloff hub. This has a few advantages:
low maintance
les vulnerable during transport by bus or plane
stronger (back) wheel (symetric)
lifespan of 100.000 kilometres
TYRES
We used to ride on Schwalbe tyres. This year, we started riding on Continental Travelcontact tyres as a testing project. Untill now, they are just fine. They are comfortable on asphalt and have good grip on gravel. We can't say much about endurance yet, because we just started using them. We'll just have to wait and see how they turn out in South America.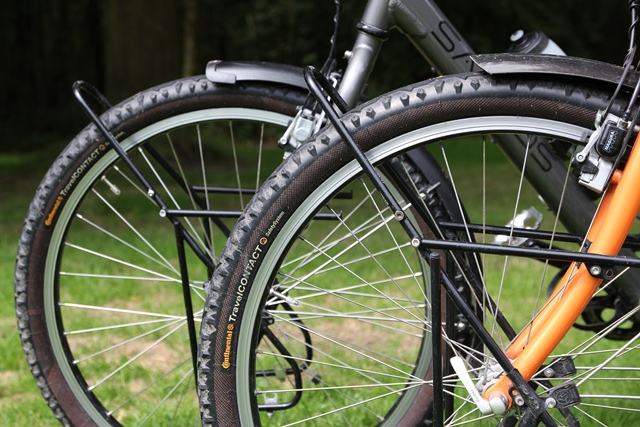 Continental Travelcontact tyres