And then we were in Ecuador! It greeted us with even more heat than what Peru said goodbye with and with the same tropical scenery, including the ricefields and of course with the same stormy (head)wind that still accompanied us every day.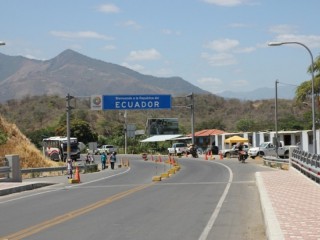 It also greeted us with the steep roads we had heard so much about. From the border town of Macara it went uphill (steep) immediately. It wouldn't even be so bad if it weren't for the fact that we went down just as fast everytime again and then had to go up again. And that continues all day long; you struggle uphill hundreds of meters (yards) and then you plummet those same hundreds of meters down again before you have to go back up again. You're using your lightest gear (and you kno wit) and still you keep looking down at your gears to check if there really isn't a lighter one left. After every corner you hope 2 things; that you're at the top and that you won't go down because you know you have to go up again.
Because of the steep roads and the enormous heat, we struggled to get to 50 kms (30 miles) a day. After 4 days of cycling we arrived in the first larger town; Loja. The next larger town is Cuenca, again 4 or 5 days cycling.
When we cycled into Loja, we were passed by a truck. The people in that truck kept yelling 'Hola' and we soo discovered why. It was Kim and the boys and the bike and trailer were in the back of the truck. What a coincidence! They had cycled to Macará and hitchhiked from there. It was impossible for Kim to cycle, even walking/pushing would have been impossible. He hoped it would get better after Loja, but it doesn't look like it. We said goodbye after a while and promised to see eachother again, somewhere in Ecuador.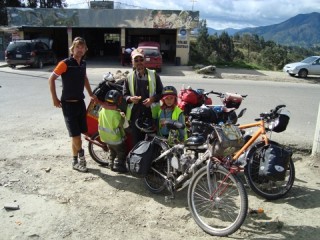 Our first impression of Ecuador is very good. The people are very friendly and the scenery is beautiful. But it's a very expensive country. Everything is about twice as expensive as in Peru, so that takes a bit of getting used to again. The currency they use here is the US dollar and they seem to have adjusted their prices to the currency…